Arihant General Studies Paper-1 PDF [2022 Edition]
Version

Latest Version

Download

32523

File Size

44

File Count

1

Create Date

May 3, 2023

Last Updated

May 3, 2023
The Union Public Services Commission (UPSC) conducts civil services exams for the recruitment of IAS, IPS, IFS, IRS and Group A, Group B Services. UPSC is considered to be the most prestigious and toughest examination in the country, every year lakhs of applicants sit for this exam. In order to crack these exams one need to do heavy preparations, thorough practice and clear concepts about each and every subjects. Keeping all the requirements of the students Arihant has come up with "General Studies Paper - 1" one of the best-selling books from its first edition, particularly designed for the civil services Preliminary examinations. This book gives the complete coverage of all the subjects as per the latest pattern UPSC which is updated with the authentic contents, Conventional subjects like History, Geography, Polity and General Science are thoroughly updated along with sectionwise questions. Important Topics from the Indian Economy, Environmental & Ecology, Science & Technology and General Science have been explained in the simple and lucid language and updated with the latest facts and figures, current affairs have been covering National & International events, Summits and Conferences are included in this new edition. It has 5 Crack Sets, Practice Questions which provides Topicwise Questions and Previous Years' Solved Papers [2021-2016] are asper the latest format of UPSC examination so that students can get aware of new question paper pattern. Moreover, this book comes with attached booklet which carries more than 5000 important points for revision. Proper preparation done from this book will assure candidates guaranteed success in their exam. TABLE OF CONTENTS Solved Papers (2021-16), Indian History and Indian National Movement, India and World Geography, Indian Polity and Governance, Indian Economy, General Science & Science and Technology, General Knowledge & Computer Technology, Practice Questions, Current Affairs, Crack Sets (1-5).
If you're an aspiring civil servant gearing up for the UPSC Prelims, you're probably already aware of the importance of having the right study material. As the competition gets tougher, it becomes crucial to have access to the best resources available. That's where the Arihant General Studies Manual Paper 1 Pdf comes in. The 2022 edition of this comprehensive guidebook is a must-have for anyone preparing for the UPSC Prelims.
With its detailed coverage of all the topics in the General Studies Paper 1 syllabus, this book is designed to help you ace the exam. From Indian history, geography, and polity to economics, environment, and current affairs, the Arihant General Studies Manual has it all. So, whether you're a first-time aspirant or a seasoned candidate, this book is an indispensable tool that can help you crack the UPSC Prelims with flying colors. In this article, we'll take a closer look at what makes the Arihant General Studies Manual so special and why you should consider adding it to your study arsenal.
Arihant General Studies Manual Paper 1 Pdf
The General Studies Paper – 1 by Arihant is a highly popular book that is specifically created for the civil services Preliminary exams. It comprises 6 main sections that cover the entire UPSC syllabus. Additionally, there is a dedicated section that covers current affairs, such as conferences and summits. The language used in the book is simple and easy to understand, allowing readers to grasp the concepts with ease. The book also includes 5 sets of practice questions, with topic-wise questions and solved papers from previous years. Overall, the "General Studies Manual Paper 1" is a comprehensive package that guarantees success, providing updated and authentic content in adherence to the prescribed pattern.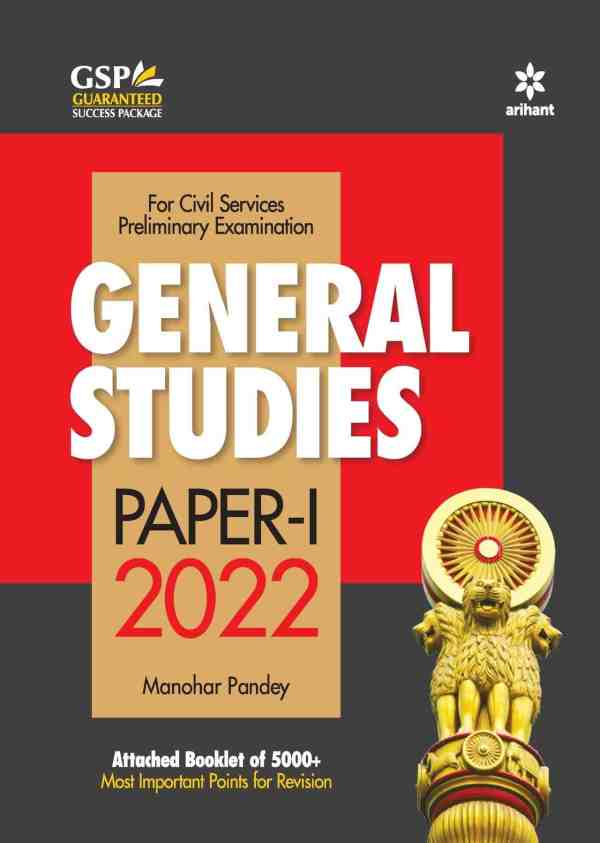 The book covers traditional subjects such as History, Geography, Polity, and General Science, which have been updated regularly. It also includes questions arranged by chapters and sections. In addition, contemporary topics like Indian Economy, Environment & Ecology, Science & Technology, and General Awareness have been explained with the latest facts and figures to help readers understand the concepts better. The latest national and international events have been listed in a separate section.
To cater to the exam's trend, the book includes practice sets at the end. Finally, the attached booklet provides over 5000 essential points for revision, making it a valuable tool that serves as a one-stop solution for the Civil Services Preliminary Examination preparation.
Book Details:-
| | |
| --- | --- |
| Book Name: | General Studies Manual Paper 1 |
| Author/Publisher: | Dr. Priya Goel / Arihant Experts |
| Language: | English |
| Edition: | 10th (2022 Edition) |
| No of Pages: | 1681 Pages |
| File Type: | PDF (Downloadable) |
| PDF Size: | 44 MB |
Inside this Book:
Terms of Download
We are providing this book PDF to all of you students so that you can read and understand the book first, then if you like this book, you can read the book by buying it online or offline. Friends, our advice to all of you would be that if you really want to be successful in your life, then definitely buy the book and start reading it so that you can easily understand the concept in less time and in a better way.